Web Hosting

Shared and Dedicated Web Hosting.
Since 2003, Global Access has partnered with businesses large and small across the globe to ensure their presence on the Internet.  Along the way, we have earned a solid reputation for superior customer service, reliability, security and providing results-oriented Web hosting solutions.
Many companies offer Web hosting solutions, but few have the credentials, infrastructure and technical expertise to efficiently deliver a reliable system to their clients. Larger companies lack personalization and customer-oriented service. They not only make it difficult to contact them, but once customers do get through, they are passed to a different individual each time they call.  To the large companies, their clients are merely numbers.
Global Access is not a large Web hosting provider; and frankly, we don't want to be.  We prefer to offer superior service to a specific market niche. That niche consists of results-oriented businesses that prefer to be hosted on shared servers of only tens, rather than thousands, of other hosted Websites.
In addition to the personalized service we offer our customers, we also have an impressive record of uninterrupted service. We almost never have outages and if we ever do, our customers can reach us quickly and easily to find out why and when they'll be back up and running.
Our Web hosting services are charged on a yearly basis.  Our basic shared hosting package starts at $15 per month. Domain name registration is $20 for .com, .net, .org and .info and $25 for .ca. This price includes Whois Privacy at no extra charge.  There are no additional charges.
Click here to view our available domain name extensions.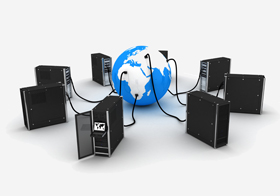 Our General Web Hosting Service includes:
Multiple Domain Name Hosting in both

Windows

and

Linux

Environments
Linux, FreeBSD, Windows, Microsoft SharePoint and Coldfusion Hosting
Shopping carts, such as osCommerce, ZenCart and Cube Cart
Stats packages, such as AWstats, Urchin and Raw and Referrer Logs
Software packages that include blogs, Content Management Systems, forums and image gallery applications. WordPress, Drupal, Joomla, PHP-Nuke, phpBB, Coppermine Photo Gallery and many more…
Web Mail, Microsoft Exchange Hosting, POP3 and SMTP services
SpamAssassin and Mailfoundry Enterprise Spam Filtering and ClamAV Anti-Virus Solutions.
The industry's two most popular control panels, HSphere and Cpanel
SiteStudio and Plesk Sitebuilder Online Website Builder Applications.
Support of the latest versions of PHP, ASP, ASP.NET, MySQL, pgSQL, Microsoft SQL, Microsoft Access and many more
Redundant architecture throughout, with hot swap server components and RAID protected Data at all levels
100% Network Uptime & Real, Proven 99.9%+ Services Uptime
Continuous Data Protection with end user accessible backups and recovery
The industry's best support response times and support quality
Seamless, on-demand growth to larger packages, VPS servers, Cloud Servers or dedicated environments
We also offer Reseller Hosting, VPS/Dedicated Hosting and NPO Discounted hosting services. Click here to view our different hosting plans.
Global Access is your partner for reliable, secure and results-oriented web hosting solutions. Backed by superior customer service, we have helped businesses of all sizes from across the globe make their presence known on the Internet.
Signing up is easy. Just let us know what you need and we'll give you fast, free, no-obligation quotation.